JUST ASK!
We are always glad to receive inquiries from educational partners. Send us your ideas, and we will see what resources we have to fulfill your needs. Past projects include: program analysis correlating academic outcomes based on middle school attendance, observations of high school teaching in an identified area of need, and facilitation of an equity book group at a partner elementary school.
GRANTS & SCHOLARSHIPS
For a decade, at least $25,000 per year in collaborative grants and scholarships have awarded to school-university partners. Scholarships were provided to various UW- Madison activities, such as:
Hip Hop in the Heartland workshops
Tickets to the Homecoming Game and School of Education Brunch to worthy cooperating teachers
Minority Student Achievement Network Institute
The themes of additional shared projects are featured in the graphic below.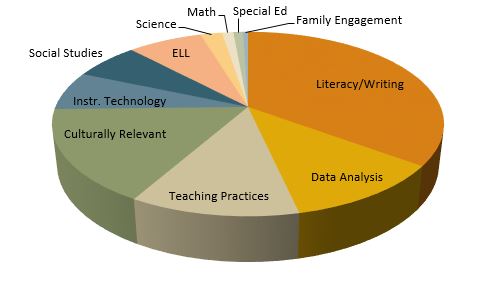 Additional UW Resources
Network Fellows are graduate students that take up projects in the community to learn, contribute, and support projects of approximately 60 hours.
Professional Learning and Community Education. Our amazing outreach office in the School of Education hosts professional learning opportunities, such as Literacy By the Lakes, Greater Madison Writing Project, Advance Placement Summer Institute, many online courses, the Wisconsin Council for Academically Talented Youth (WCATY), and so much more.
School of Education MERIT Library. Technology support for schools interested in curriculum design support, workshops for specific technologies (iPads, smartboards, promethium boards, etc.), or other technology support.
WI Evaluation Clinic. Evaluation Fellows from the WI Center for Educational Research can design a literature review, small-scale evaluation plan, action research help, facilitated conversations about research, etc.
Minority Student Achievement Network (MSAN) is a national coalition of multiracial, suburban-urban school districts that have come together to understand and eliminate achievement/opportunity gaps that persist in their schools.
Spoken Word. Teacher support for bringing Spoken Word programming into classroom curriculum and participation in Hip Hop in the Heartland activities.
Peña for Special Educators. Peña – a meeting place or grouping of artists, a grassroots culture
Group purpose: To create the next generation of special educators by supporting the intellectual and creative spirit of special educators.
WiDA's goal is to advance academic language development and academic achievement for linguistically diverse students. WiDA is in the Wisconsin Center for Educational Research.
Field Day Lab brings a design team, including the software engineers, artists, and education researchers with diverse disciplinary backgrounds, to support the development and implementation of the educator's vision.